This article is my first (and meagre) contribution to Tuesday Night Bloggers, a weekly event conceived by Curtis Evans of The Passing Tramp and hosted by Noah Stewart of Noah's Archives. After being on Agatha Christie for all of October, the group's focus is now on Ellery Queen.
Somewhat surprisingly given the local lack of enthusiasm for traditional mysteries, Ellery Queen has always been popular with French readers and critics - all of their canonical works were translated and remained in print long after they had faded into oblivion in their native country. The love story culminated with Queen winning France's top crime award, the Grand Prix de Littérature Policière, for And on the Eighth Day in 1974.
Notable EQ fans include director Claude Chabrol (who made a film out of
Ten Day's Wonder)
noted critics Michel Lebrun, Jean-Pierre Deloux François Rivière and Ellery Queen Award winning publisher François Guérif among others.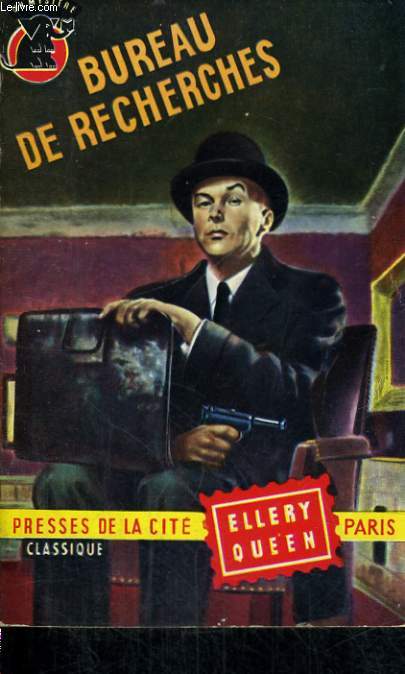 The French view of EQ is not the same as the one prevalent in the rest of the world, however, and the choice of favorites differ. True to their Balzacian mindset, the French don't care much for the "nationality books" which they find too artificial and game-like. EQ to them picked up steam with the Hollywood books and reached their apex with the Wrightsville saga. One of the many surprises I had when I first joined English-speaking discussion groups was to find that the dominant view there was exactly the opposite! The French also like that EQ brought greater depth of characterization to the genre, were able to evolve with the times and let free rein to their imagination rather than sticking to antiquated rules (the French just hate rules in their crime fiction)
While I often disagree with my fellow-compatriots, especially where crime fiction is concerned, I am in agreement with their assessment of EQ and all of my many favorites of them are post-Wrightsville though I admit I don't know the nationality books well - their tone and flowery prose put me off every time I tried to read them. EQ matter a lot to me as they were one of three writers (the other being Dame Agatha and The Mighty John Dickson Carr) who introduced adolescent me to crime fiction and fashioned my tastes for life. Imaginative, clever and original - we really need another Ellery Queen.